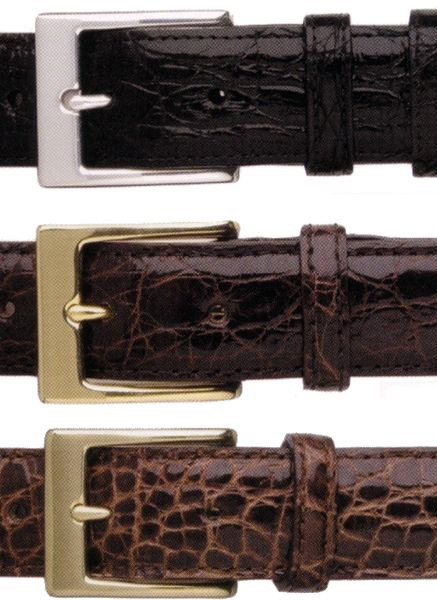 Pairing a belt with clothing can be a tricky business: you want it to look perfect with today's outfit, and yet coordinate with several outfits. Each type of belt has its own built-in style.
Here are five classic belt styles for different looks.
Canvas- With its relaxed look, the canvas belt works well with casual-wear such as chinos or corduroys. Tans and browns work best with khaki slacks, while darker belts look best over darker trousers.
Plaited- While dressier than a canvas belt, plaited leather belts are still on the relaxed end. Wear them with a sport jacket and trousers, or with your more casual suits.
Black leather- A black belt with a brass or silver buckle is a perennial favorite for good reason: it can be worn any time you're wearing black shoes, whether you're wearing a fine suit or trousers without a coat.
Brown leather- Brown leather belts with brass or silver buckles are classic. Simple buckles are more elegant than detailed ones. Match your belt to the appropriate brown shoe color in shades from tan and cognac to deep, espresso brown.
Whether your occasion is formal or casual, choosing an appropriate belt for your outfit ensures that the details work together smoothly for a stylish look.