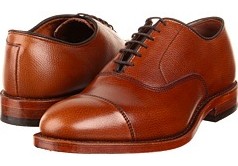 There's more to choosing a pair of dress shoes than making sure their color works for your outfit. Each type of shoe has its own level of dressiness, and will work best within a range of outfits.
From casual to dressy, here are a few classic choices:
Loafers: Shoes without laces are part of the broad category of loafers (such as penny loafers and moccasins). Less dressy than their laced-up counterparts, loafers can be worn easily with business-casual outfits, lightweight summer suits, and dressier casualwear.
Bluchers (open lacing): If the top of the shoe and the tongue are crafted from one piece of leather, a portion of the tongue shows from beneath the laces, giving it an open look (such as wingtips and Derbies). Bluchers are frequently more detailed than both loafers and balmorals. Wear with suits, slacks, and dressier jeans.
Balmorals (closed lacing): When the lacing pulls the shoe shut over the tongue (such as Oxfords), it gives the shoe a more formal look than open lacing. Wear with your dressiest suits and to formal occasions such as receptions, weddings, and funerals. The most elegant balmorals have minimal detailing.