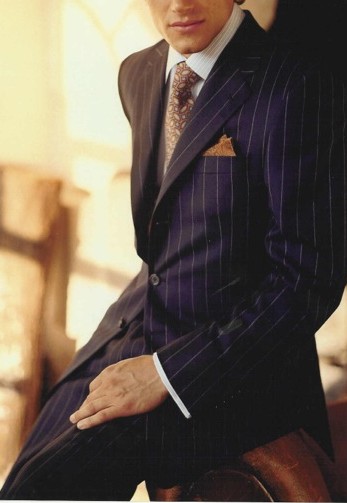 If five different gentlemen all wore the same type of suit, you would see five different styles emerge. What makes the difference? Their choices in detailing.
Your own detail choices help you develop your own signature style. Whether you prefer a classic or trendy look, flavorful colors or a palette of neutrals, your individual style should be expressed in each outfit. Custom clothing allows you to be in charge of your clothing's detailing decisions, including a myriad of individualized options for collars, lapels, pockets, buttons, hems, cuffs, and material.
As your custom clothier, we can help you design clothing with colors and fabrics that bring out your personality and flatter your frame. Each decision plays its part in crafting your individualized style and image.
Neckwear is one of the most important details about your attire. Your choice of tie each day is often the first thing others notice about your outfit. Wearing high-quality, attractive ties always enhances your appearance.
Accessories do their share in creating style, too. Even after you've crafted your personalized clothing, your choices in watches, tie bar, and pocket square work together as part of your personalized wardrobe.
Find the detailing options that best suit you by scheduling a consultation today.