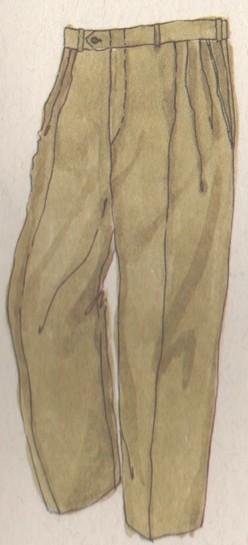 Khaki, or tan, is best known as the color of choice for casual trousers and military uniforms, but it's also a fantastic way to create an air of relaxed elegance. Instead of limiting your use of tan fabric to Fridays or weekends, consider crafting a sophisticated custom suit out of this appealing color.
A cotton khaki suit never looks like it's trying too hard. It brings a comfortable nonchalance to your business wardrobe. It also offers a great opportunity to try out a variety of new colors and textures in your shirts and ties that work well with the softer feel of cotton.
During warm weather, the breathability of cotton can be a lifesaver in the heat, as can a tropical light-weight worsted wool.  Pair your suit with tan, brown, or burgundy shoes instead of black for all-around style.
To create a sleek look, consider selecting peak lapels and a single button for your suit coat. Make sure the other elements of your outfit do not overwhelm the lighter shade of the suit by toning down the colors in your shirt and tie. A pocket square can add interest without dominating your look. And whether your suit calls to mind Casablanca or the French Riviera, it will create a look of casual grace that's never out of style.